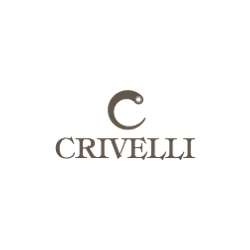 CRIVELLI EN
The Crivelli company, was founded in July 1989, it represents the goal of a journey undertaken in 1980 when Bruno Crivelli, born in Valenza Po, an expert in gem setting and banquet construction, decided to set up his own business, and produce, design, build and market his first collection of only 40 pieces. With his jewels characterised by a great quality of execution, Crivelli is the interpreter of a classic style re-proposed in absolutely contemporary proportions and combinations. He represents it on his own, by travelling and meeting dealers all over Italy. Today, the position achieved is significant in terms of turnover, worldwide distribution network and, above all, product quality. In the last 15 years, the company has undertaken a branding process, so much so that today it has opened 3 single-brand stores in Capri, Porto Cervo and Taormina with the expectation of future openings in cities considered to be the capitals of luxury.
Currently 68 people work in in Crivelli.
Main acknowledgements received:
Andrea Palladio International Jewellery Awards 2012 for the category Best Italian Jewellery Brand Collection;
100 Italian Excellences 2016;
Triennale International Exhibition Milan 2016, selected among the 50 best expressions of the Made in Italy of jewels craftsmanship, in the exhibition "Brilliant! The Future of Italian Jewellery".
www.crivelligioielli.it
info@crivelligioielli.com