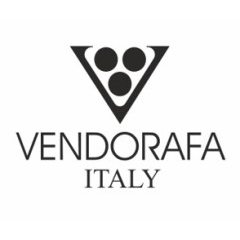 VENDORAFA LOMBARDI
Vendorafa Lombardi was founded in Valenza in 1951 as a producer of jewellery and goldsmith.
The production process, which has always been aimed at a high definition of technological quality, the synergistic organisation of the structure and the modern management have a strong link with the tradition and craftsmanship of Valenza.
Professionalism and extensive experience allow Vendorafa Lombardi both to produce and distribute its jewellery collections, and to design and produce exclusive lines for major international brands.
Manual processing such as hammering, engraving and embossing have long been the hallmarks of Vendorafa Lombardi jewellery; the handmade processing of surfaces enhances the material value of the gold, its light and its aesthetic warmth.
In addition to the craftsmanship, are employed high-tech machinery, Cad-Cam information systems, rapid prototyping and 3D surface modelling.
The Vendorafa Lombardi jewels are born from essential shapes: organic figures, of floral inspiration and classical geometry in a continuous harmony of intuition and experience, research and creativity. Vendorafa Lombardi is a partner of the most exclusive international brands, through which it conveys its expertise and the image of the Made in Italy. Currently 63 people work in Vendorafa.
Main acknowledgements received:
1985 – The unpublished of Valenza Produce – Purchaser's Award
1986 – International Gold Corporation Competition – Sophisticated Woman Award
1988 – World Gold council – Avant-garde Woman Award
1988 – Best Display of Merchandise – Jewelers of America
2000 – World Gold council – Award Design
2002 – Gold Virtuosi – Award Design
2016 – Indesign Awards – People Choice
www.vendorafa.it
lombardi@vendorafa.it